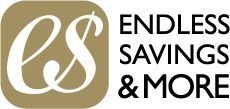 Save with hundreds of discounts available on your smart phone. 
Website: http://www.ESMobileApp.com
Participating Merchants Include – Aosom, Ardene, Bebe, Bellelily, Bentley Leathers, BestCanvas.ca, caseable, Chatters Hair Salons, Chef's Plate, Clarks, Clearly.ca, Defender Cameras, Dell, Earth Shoes, Eric Dress, Eternity Modern, eVitamins, Fairweather, Florsheim, Fossil, FragranceX, GetNameNecklace, Guess Factory, Hello Fresh, influenceu, Kaspersky, Keds, Kinguin (Electronic Games), Keurig, Lacoste, Lenovo, LightInTheBox, Linen Chest, L'Occitane en Provence, Make Up Eraser, MTD Parts, Naturalizer, Nunn Bush, NYX, Perfect Lens, Penningtons, Prana, SAXX, SHEIN, Sperry, Stacy Adams, Starlight Lighting, SuperJeweler, Suzy Shier, Vitamix, Vistaprint, Wolverine and Zaful.
To get the ESM App, go to your app store (Google or Apple) on your smart phone and search for Endless Savings & More. When you first download the app, you will be asked for the CUPE BC "organization code". It's: cupebc
IRIS Advantage Program
Benefits can be used throughout the year as required, and may be used multiple times in the same year.
Advantage Program members will receive:
$150 towards the purchase of prescription eyewear (lenses with a minimum value of $250 and frame) and prescription sunglasses
$ 25 towards the purchase of a pair of single vision lenses (minimum value of $250)
$ 50 towards the purchase of a pair of progressive vision lenses (minimum value of $250)
$ 50 towards the purchase of an annual supply of contact lenses
$ 50 towards the purchase of non-prescription sunglasses valued at $100 or more
https://www.perkopolis.com/about-us
To access the Perkopolis discounts you will need to contact the office via email to request a single use signup code and then register on the website.
The Local is currently looking into other discounts available, stay tuned for updates. If you have any leads on discounts please send an email.